Under the Reefs Orchestra







UNDER
THE
REEFS
​ORCHESTRA

​A sonic-minded power trio of obsessive, biting riffs and mists of hypnotic sounds, haunted by Jim O'rourke and This Heat.

Under the Reefs Orchestra is guitarist Clement Nourry's follow-up to his solo album Under the Reefs.
​
He is joined by bass saxophonist Marti Melia (Flat Earth Society), experimental drummer-guitarist Louis Evrard (Yokai, Jawhar) and sometimes by the modular machine hacker Monolithe noir.
Propulsé par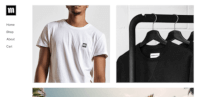 Créez votre propre site Web unique avec des modèles personnalisables.